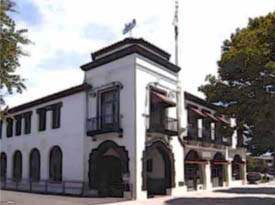 The Santa Cruz County Veterans Memorial Building is a 501c.3 non-profit venue providing space to the community for meetings, classes, workshops, concerts, dance productions and other performing arts events.
Registered as an historical landmark and built in 1932, the Veterans Memorial Building reflects the historic nature of downtown Santa Cruz. While the facilities have undergone significant upgrades including a complete ceiling renovation in 2007, great care and and appreciation for the building's exquisite charm and beautiful mission architecture have been retained. Link to Rental Request Form.
Rental Rates are located at the bottom of each rooms page.