Built in 1932, the Santa Cruz County Veterans Memorial Building (SCCVMB) is a historical landmark conveniently located in the heart of beautiful downtown Santa Cruz. The SCCVMB is an ideal location for classes, meetings, workshops, receptions, concerts and special events.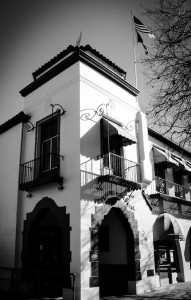 Street Address: 846 Front Street, Santa Cruz CA 95060
Mailing Address: PO Box 1303, Santa Cruz CA 95061
Operations Manager: 831-454-0478  Email: manager@vetshall.org
Facility Rental Information: 831-454-0478  Email: info@vetshall.org
Veterans Service Office: 831-454-7276
Mission Statement: The SCCVMB is operated and maintained for the principal purpose of veterans affairs and provision of administrative and clerical office space for County personnel employed to administer veterans benefit programs. The SCCVMB is also a community recreation and cultural center servicing public functions and provides rental space for numerous educational and cultural organizations and activities.
To further our mission, the SCCVMB aims to cultivate the following goals:
Retain the first priority of the SCCVMB use for veterans affairs, both the governmental programs presently using the SCCVMB and the veterans organizational activities, present and future, requiring space in the SCCVMB.
Promote public education in the arts.
Honor the SCCVMB's status as a registered historical building.
Cultivate use of the SCCVMB by rent paying community groups.
Develop the auditorium into an attractive facility for concerts productions, dramatic performances, and other performing and fine arts classes.
Your contributions will help maintain and make this facility available to veterans and offer the community a unique cultural and performing art center. Donate today.